Early Start Day : 8:50 – 11:20
Welcome everyone to Scoil Mhuire Junior and to the Early Start Web Page. Early Start is a one year pre-school programme for children who are aged between 3 years 2 months and 4 years 7 months on the 1st of September of the year in which they are enrolled.
40 primary schools in the country have an Early Start Unit. We are one of these schools. These are funded and staffed by the Department of Education.  Early Start is staffed by a qualified primary school teacher and a qualified preschool teacher. The preschool teacher stays in Early Start. The primary teacher changes over time.
Early Start is regarded as an integral part of the primary school and benefits from the managerial and administrative services of the school. The children have access to all of the facilities of the school, including yard and P.E. hall. The children in the Early Start Unit also participate in a lot of organised school activities e.g. assemblies, science day etc.
This is the Early Start web page for Scoil Mhuire Junior. Here we will keep you, as parents and guardians, up to date with what the children are doing in school. We will post photos of the children at work and at play. To view these photos click on the "photos" tab underneath the "Early Start" tab above.
In Early Start , we use the "Early Start Guidelines" and "Aistear" which is "The Early Childhood Curriculum Framework". It encourages play. Play helps children to develop a broad range of skills and understandings. We play both indoors in our classroom, in the school P.E. hall and outdoors on our yard. Play, music, story, art, movement and circle time are all important parts of the Early Start school day.
This is the Early Start room
What you can practice at home: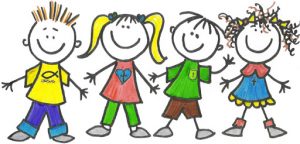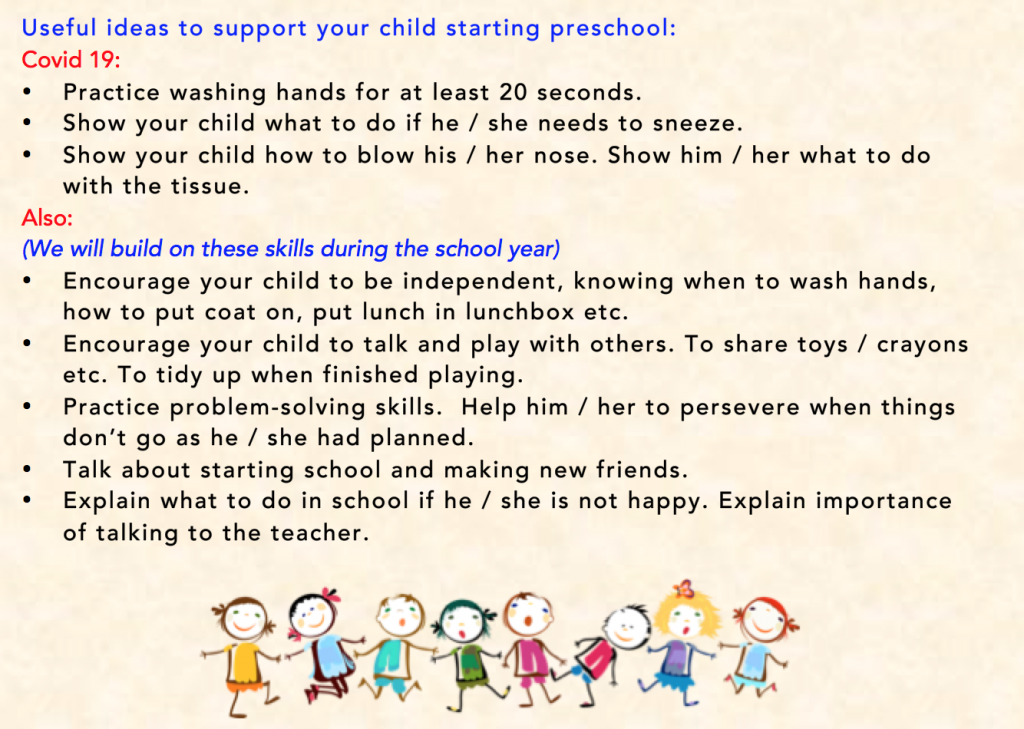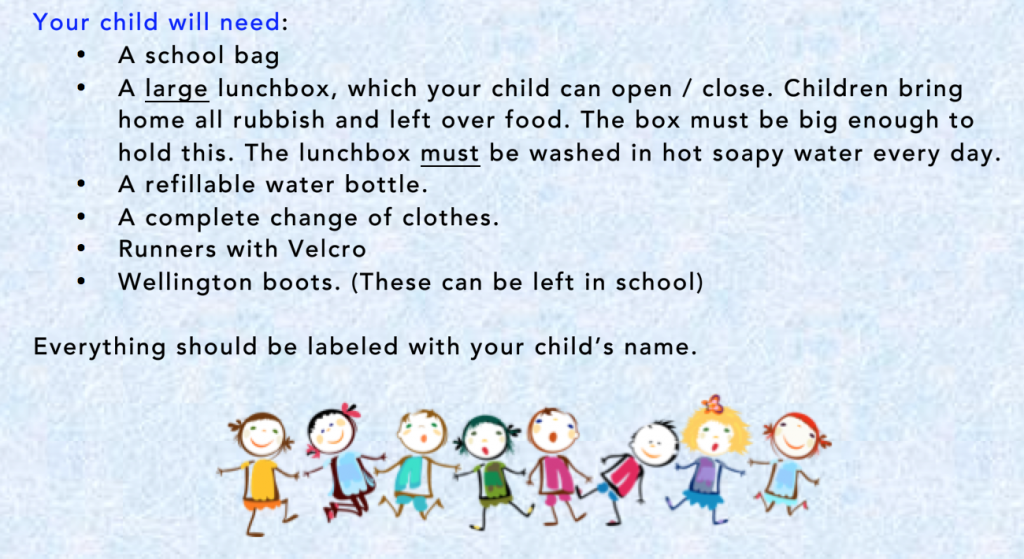 Link to Official Department of Children and Youth Affairs Site – Preschool::
https://www.gov.ie/en/publication/46283-ready-for-pre-school/
Covid 19
There are 15 children and 2 adults in the Early Start Room. They form one play pod. Children of this age would find it very difficult to social distance. Consequently:
"The play-pod model is recommended as an alternative to social distancing. Children do not need to observe social distancing from other children or their carers within their play-pod."
Please read from "Latest News Section" on the main home page – posts related to Covid 19.
Covid 19: Some songs to sing when practising hand washing and sneezing. Also showing kids what we can do instead of hugging.
Information on "Aistear"
Click on the link : https://ncca.ie/media/1136/tipsheet_play_parents_of_young_children.pdf