Home School Community Liaison Coordinator:

Jen Healy
Scoil Mhuire Junior is part of the Home School Community Liaison Scheme.
Who am I?
Hi everyone and welcome to Scoil Mhuire Junior. My name is Jen. I am a Primary School Teacher and I have been working in Scoil Mhuire Junior since 2014. In 2018 I stepped into a new role as Home School Community Liaison Coordinator which has given me a wonderful opportunity to get to know the families of the children in our care and develop relations with community initiatives that support families and children.
What do I do?
My role involves promoting active co-operation between home, school and relevant community agencies in promoting the educational interests of the children. Our goal is to work together to create a school community where all people are respected and valued. We believe that open communication and mutual support is a great way to achieve this goal. I work with parents in many different ways to develop their capacity as a key resource in their children's learning.

How can I be contacted?
You can contact me by phone or email. My details are;
Contact number: 0872768580
The Importance of ATTENDANCE
One of the most important things your child can do to achieve academic success is also one of the most basic: going to school EVERYDAY. In fact, research has shown that your child's attendance record may be the biggest factor influencing their academic success.

IF YOU WOULD LIKE TO CHANGE THE GLANMORE LUNCH ORDER, PLEASE RING THE NUMBER ON YOUR CHILD'S LUNCH BAG. THEY WILL PROVIDE YOU WITH AN ID NUMBER WHICH CAN BE USED ON THEIR WEBSITE- WWW.GLANMOREFOODS.IE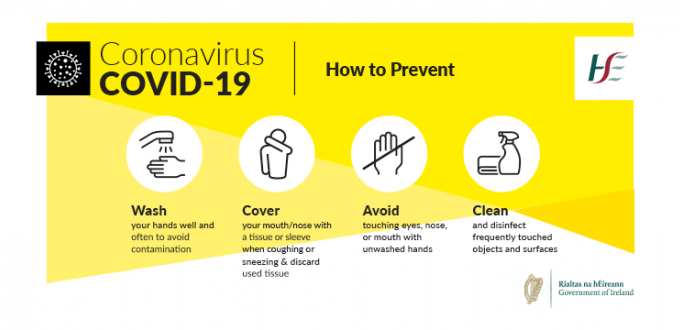 As a result of so many families being affected by job losses recently due to the Covid-19 pandemic, I am very conscious to ensure that any of our families that need financial assistance in relation to buying food and necessities gets support- PLEASE DON'T HESITATE TO GET IN TOUCH! We are all in this together. Jen- 0872768580
Here are a list of web links and contact numbers that you may find useful during this time:


If you or someone in your family needs to go for testing, this is a handy guide explaining the process to children.
Hselive provide information and advice about the Irish Public healthcare system- 01850241850

www.hse.ie

provides information re symptoms, treatment and prevention of Covid19
Stay safe everyone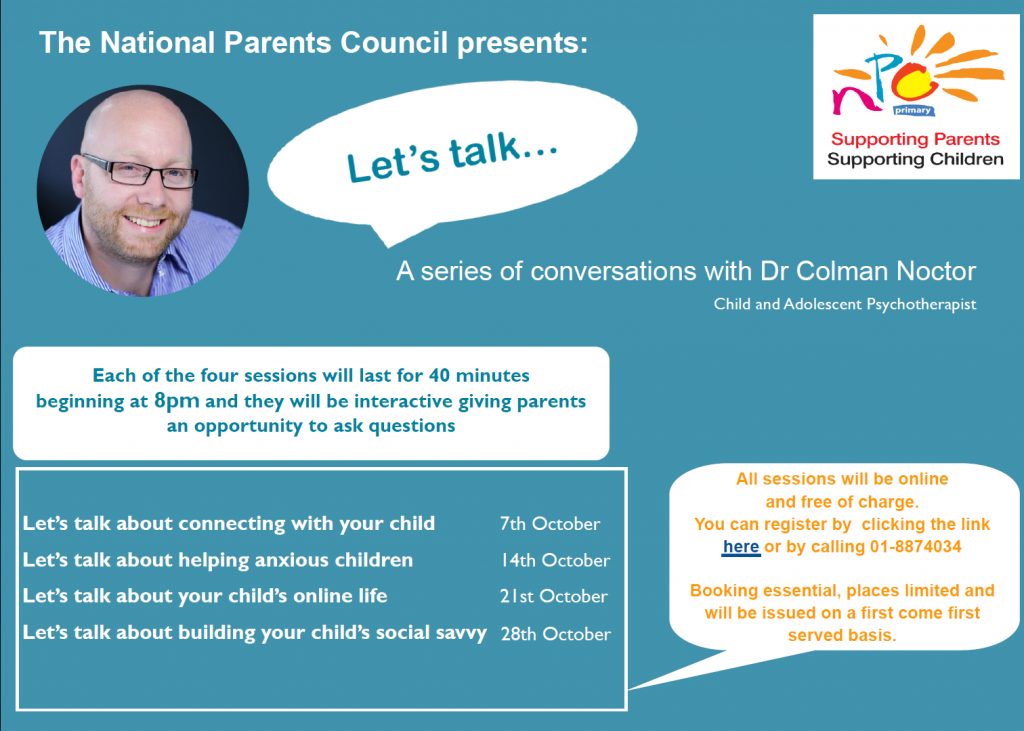 NALA Numeracy Maths Week 2020 webinar series
Date and time
Title
Facilitator
Registration (free)
Monday 12 October 11.00 – 12.00
Financial maths with percentages, interest rates and budgeting
Sorcha Moran, Numeracy Trainer and Tutor, Mayo, Sligo and Leitrim ETB
Register
Tuesday 13 October 11.00 – 12.00
A seamless transition from number to algebra
Sheelagh Clowry, Maths trainer
Register
Wednesday 14 October 11.00 – 12.00
Strategies for teaching fractions for understanding
Niamh O'Meara, Lecturer in Mathematics Education, EPI STEM, University of Limerick
Register
Thursday 15 October 11.00 – 12.00
Numeracy in context: Exploring real life contexts for numeracy development
Aibhín Bray, Assistant Professor in Mathematics Education, Trinity College Dublin
Register
Friday 16 October 11.00 – 12.00
Making sense of area and perimeter (levels 2 and 3)
Mark Prendergast, Senior Lecturer in Education, University College Cork
Register
There is no cost for attending these 'Maths Week 2020' webinars. NALA membership: You don't have to be a NALA member to participate. However, we would be delighted if you would consider joining if you are not already a member. For more information go to www.nala.ie or contact Fergus Dolan in NALA on fdolan@nala.ie
THE BOOK FAIR IS COMING TO SMJ!
You will soon be able to order the latest book releases at FANTASTIC prices! Great to get the children reading at home or to pick up lovely Christmas gifts at unbeatable value. Keep an eye on the website for the catalogue, order form and payment options!