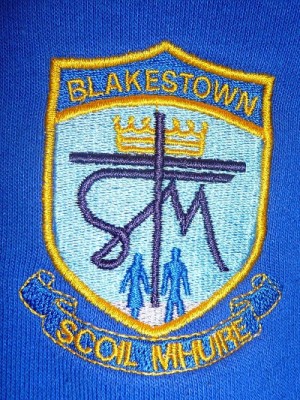 Scoil Mhuire Junior
Blakestown,
Dublin 15
Telephone/Fax: (01) 8216916
Email:smjblakestown@gmail.com www.scoilmhuirejunior.ie
Scoil Mhuire Junior Code of Behaviour Policy
Rationale
The Board of Management of Scoil Mhuire Junior is involved in an on-going process of reviewing all school policies in light of current legislation. A school Code of Behaviour is an essential element in the smooth running of a school. The school had a Code of Behaviour that is reviewed regularly, with the last review completed in May 2021. This review was carried out according to the Guidelines for Developing a Code of Behaviour from the National Educational Welfare Board and the Health and Safety Guidelines issued in response to COVID 19. The guidelines were used as a tool to evaluate our existing policy and amend it where necessary. This task was delegated to the Principal, Deputy Principal and school staff.
Mission Statement
We in Scoil Mhuire Junior strive to create an inclusive environment which cherishes the diversity and individuality of all members of our school community while upholding the Catholic Ethos.
"Explore, learn and succeed together"
Student Motto
. Kind heart, Kind words, Kind hands, Kind feet.
Aims:
To enable the child to live a full life as a child and to realise his or her potential as a unique individual
To enable the child to develop as a social being through living and co-operating with others and so contribute to the good of society.
To prepare the child for further education and lifelong learning.
To promote self-esteem and positive relationships.
To create an atmosphere of respect, tolerance and consideration for others.
To ensure the safety and well-being of all members of the school community
To ensure that the system of rules, rewards, and sanctions are clearly understood and implemented in a fair and consistent manner throughout the school
To provide guidance for pupils, teachers and parents on behavioural expectations.
Expectations
All members of the school community will behave in ways that show respect for others
All children will attend school regularly and punctually, will endeavour to do their best in class and will take responsibility for their own work and behaviour
Full school uniform will be worn. For health and safety reasons, the only ear-rings permitted will be of the stud variety.
In the playground, field and yard children will keep the Golden Goals and play with respect towards others
All forms of bullying, racial or gender abuse will be unacceptable in the school.
Discipline will be accepted with respect and good grace.
All members of staff, parents/ guardians and children will adhere to the Covid 19 Health and Safety measures which we have in place.
Promoting Positive behaviour
In Scoil Mhuire Junior, we adopt a positive approach to discipline by having high expectations and encouraging the development of self-discipline. The focus of the whole school approach is the promotion and recognition of positive behaviour.
Positive reinforcement: Friendship bench, Good News Bulletin Board, Principal's Awards, Compliment Board in every classroom, Badges / Wristbands from principal, Good Behaviour Certs for the classroom and the playground.
All staff members endeavour to praise good behaviour wherever they observe it –a quiet word or gesture to an individual or a word of praise to a group or whole class.
Children may be sent to another class or to the Principal for commendation (Principal's Award)
All class teachers devise reward systems appropriate to their class.
Pupils are involved in creating a set of rules for their class.
At the monthly assembly, we celebrate recent events and achievements.
Parents are informed when their child's behaviour has improved.
Ongoing communication with parents is an essential element in promoting and sustaining positive behaviour. This can take the form of notes home for individuals and items on the website or in the school newsletter.
Where individual children have difficulty in adhering to the rules of the classroom or the school, the teacher will devise a reward system tailored to the needs of the child. This may form part of the Classroom Support Plan or the School Support Plan for that child, if one is required. (See Educational Support Policy)
Privileges will be given to children, who have difficulty behaving well, when a real effort to behave well is noticed.
Where a child has a particular difficulty with another child or with a specific behaviour, a variety of friendship programmes will be used to encourage positive behaviour towards other children. Parent's will be informed and asked to encourage positive interactions with all children.
Parents will adhere to the procedures when dealing with any issues.
General guidelines for Positive Behaviour
The school rules in Scoil Mhuire Junior are designed to support the maintenance of a safe, happy and orderly environment for all members of the school community. The underlying principles of our Code of Behaviour are;
Respect for themselves
Respect for others and
Respect for property
Our school motto underpins the moral values of the school. They are:
Kind hearts; Kind words;
Kind hands; Kind feet.
Core to all areas in the school will be that:
The safety of all children is of central importance.
Staff will know, teach and model our school motto.
Children will sit in their seats when teacher is out of the room
Each teacher will create classroom rules in line with the code of behaviour and in collaboration with the children.
Children will be reminded of the rules and the rationale for them regularly
Good behaviour will be acknowledged and rewarded
See Appendix A for specific school rules
Behaviour
Levels of Misbehaviour:
There are three levels of misbehaviour: Minor, Serious and Gross.
Below are clarifications of what is meant by these terms
Minor Misbehaviour:
All misbehaviours of a minor nature are dealt with by the Class Teacher.
Some might include…
-Continuous talking or interruption
-Being discourteous/unmannerly
-Non completion of homework without good reason
-Pushing /pulling / poking other children.
-Running in the school building
-Repeated touching / taking / using other children's belongings.
-Breaking basic yard rules
-Endangering self/others in yard (e.g. having sticks/stones/climbing or swinging on trees)
-Due to Covid 19 restrictions: Non-compliance of usage of classroom resources / activities.
Serious Misbehaviour
In cases of serious repeated misbehaviour, parents will be involved at an early stage and invited to meet the Teacher and/or Principal to discuss the child's behaviour.
Due to Covid 19 restrictions, meetings will take place by phone conversation or by online video call.
Some minor misbehaviours when on a continuous basis.
Behaviour that continuously interferes with teaching and learning.
Unprovoked acts of aggression
Rough play causing injury
Serious fighting—kicking/hitting/biting/spitting
Stealing or damaging another person's property
Ongoing lying and dishonesty
Name calling
Bad/Inappropriate language and gestures directed at someone
Behaviour that is hurtful (including bullying, harassment, gender or racist discrimination and victimisation)
Threats or physical hurt towards another child or adult
Uncontrolled behaviours/tantrums
Refusal to work
Behaving inappropriately when representing the school
Leaving the yard/school without permission.
Gross Misbehaviour:
In cases of serious incidences of Gross Misbehaviour parents will be asked to meet the Teacher and/or Principal to discuss the child's behaviour.
-Repeated serious misbehaviour
-Serious theft
-Serious damage to property
-Assault on a pupil/teacher
Due to Covid 19 restrictions, meetings will take place by phone conversation or by online video call.
This code of behaviour applies both in the school and its environs and to all school-related activities.
Children with Special Educational Needs:
All children are required to comply with the Code of Behaviour.
The school recognises that children with special educational needs may require assistance in understanding certain expectations
Class teachers, Special Education Teachers and SNAs will check that standards and rules are communicated in a way that children with special educational needs can understand. These rules will be explicitly modelled, taught and reinforced on a regular basis.
Children will be given opportunities to practise observing the rules and given feedback on their progress.
As appropriate, Specialised Behaviour Plans will be put in place in consultation with parents, the Class Teacher, Support Teacher, Special Educational Needs Co-ordinator (SENCO) and/or Principal. This will form part of the School Support Plus Plan.
The school will work closely with home to ensure that optimal support is given.
Professional advice from psychological assessments will be followed.
The other children in the school or class may be taught strategies to assist a pupil with special educational needs, to adhere to the expectations, thus providing peer support.
The school community of Scoil Mhuire Junior will act in a supportive and safe way acknowledging the differences in all individuals.
Sanctions
The purpose of sanctions and other strategies is to promote positive behaviour and discourage misbehaviour. Scoil Mhuire Junior will endeavour at all times to ensure that discipline is applied in a fair and consistent manner.
Sanctions will be applied according to the gravity of the misbehaviour.
Repeated Minor Misbehaviours:
These may include:
Reasoning with the child
Verbal reprimand with advice on how to improve
Temporary separation from peers within the class
Thinking Time in the classroom.
Loss of privileges (e.g. activity time / Golden Time)
Time out while in the yard
Communication with parents
Serious Misbehaviour:
These may include:
Referral to the Principal
Principals communicates with parents
Suspension (maybe in the form of a shortened or reduced day)
Gross Misbehaviour
Exclusion (Suspension or expulsion) from school, in accordance with Rule 130 of the Rules for National Schools as amended by circular and the Education Welfare Act 2000). Procedures are outlined below.
In cases where the school has serious concerns in relation to the managing of consistent/ disruptive /aggressive behaviour, the school under the guidance of the school principal may seek the advice of the appropriate external agencies (NEPS, EWO, SENO, SESS, Tusla) with the aim being to manage the behaviour more effectively.
Complaints or concerns about a child's behaviour should be brought, in the first instance, to the attention of the class teacher. Class teachers may seek the advice of the Mentor. Serious concerns would, of necessity, be brought to the attention of the Principal and /or the Board of Management. Parents / Guardians will be directed towards the complaints procedure if this is required.
Suspension
If the parents/guardians do not give an undertaking that the pupil will behave in an acceptable manner in the future, the pupil may be suspended for a temporary period to a maximum of 3 days.
In the case of an incident of gross misbehaviour the Board of Management authorises the Chairperson to sanction an immediate suspension to a maximum of 3 days pending a discussion of the matter with the parents/ guardians.
A special decision of the Board of Management is necessary to authorise a further period of suspension up to a maximum of 10 school days.
In this case the Education Welfare Officer will be informed by letter of the intention to do so.
Parents/ Guardians may meet with the Board of Management prior to the authorisation of this second period of suspension.
In exceptional circumstances the Board may authorise a further period of suspension in order to enable the matter to be reviewed.
A suspension may be lifted under exceptional circumstances, as so deemed by the Board of Management.
A single incident of serious misconduct may be grounds for suspension.
Expulsion
Under the Education Welfare Act, 2000, "A student shall not be expelled from a school before the passing of 20 school days following the receipt of a notification under this section by an Educational Welfare Officer". (Section 24 (4)).
It is the right of a Board of Management to take "…such other reasonable measures as it considers appropriate to ensure that good order and discipline are maintained in the school concerned and that the safety of students is secured." (Section 24(5))
Appeals
Under Section 29 of the Education Act, 1998, parents (or pupils who have reached the age of 18) are entitled to appeal to the Secretary General of the Department of Education and Skills against some decisions of the Board of Management. The Board of Management will advise parents of this right if it has been decided to suspend (for more than 20 school days in a school year) or permanently exclude a pupil.
The Secretary to the Board will prepare a response to any such appeal, which is under investigation by the Department of Education and Skills.
Notwithstanding the above, in the case of any pupil behaving in a manner likely to be a danger to him/herself or others and where every reasonable effort made to address the matter has failed, the Principal shall request the parent/guardian to withdraw the pupil from Scoil Mhuire Junior until such time as the Board of Management deals with the matter. This shall be done as soon as is practicable. (in line with our Health and Safety Policy)
Aggressive or violent behaviour is behaviour that puts a pupil himself or herself, other pupils or staff members at risk.
The Board of Management may request that the pupil be withdrawn while a programme can be agreed or resources put in place in order to ensure the safety and wellbeing of the school community.
Record Keeping
Class Level
Teachers keep a record of misbehaviour, which is on-going, disruptive or serious. The type of misbehaviour is listed along with the date and a brief factual account.
When required, a Classroom Support Plan is devised to support a child with particular behavioural difficulties.
School Level
The Principal also keeps factual reports of particular incidents, communication between school and home, with outside agencies and Board of Management. These are stored in the office.
When required, a School Support Plan /School Support Plus Plan is devised to support a child with particular behavioural difficulties.
End of Year Report – The end of year report includes references to behaviour, which is standardised.
Yard Behaviour
Instances of misbehaviour in the yard are referred to the class teacher to record. For incidences of serious and gross misbehaviour, they are referred to the Principal.
Procedures for Notification of Pupil Absences from School
The Education Act 2000, Section 23 (2)(e) states that the code of behaviour must specify, "the procedures to be followed in relation to a child's absence from school." Section 18 stipulates that parents must notify the school of a student's absence and the reason for this absence.
Parents/Guardians can notify the school of a pupil's absence in the following ways:
The school may be contacted by telephone by the Parent/Guardian.
On the morning of the pupil's return to school, parents must give the teacher at the door, a note explaining the reason for the pupil's absence from school.
All absences and the explanations for them are recorded by class teachers
These records are stored in the school administration system (Aladdin)
Automatic texts are sent from the administration system when a child misses 10 days and 15 days.
Tusla, Child and Family Agency are notified once a pupil misses 20 days
Roles and Responsibilities
Board of Management will
Work with other members of the school community in drawing up and reviewing the Code of Behaviour.
Provide a comfortable safe school environment.
Support the Principal and staff in implementing the Code of Behaviour
The Board of Management of Scoil Mhuire Junior reserves the right to amend the code of Behaviour as it sees fit in order to maintain proper standards of conduct and in the interest of the Health, Safety and Welfare of all persons who use this school.
The Principal will
Facilitates the involvement of members of the school community in drafting and reviewing the Code of Behaviour.
Make the Code available to all members of the school community.
Promote a positive climate in the school
Supports staff in implementing the Code in a fair and consistent manner.
The Principal, as instructed by the Board of Management, may have to act on certain Health and Safety issues which may have implications for our Code of Behaviour. The Principal reserves the right to do so and make any decisions necessary to uphold the Health, Safety and Welfare of all persons who use this school at her discretion.
All staff will
Be familiar with and implement the Code of Behaviour.
Promote positive behaviour and recognise and affirm good work.
Model, develop, and uphold an atmosphere of mutual respect, kindness and inclusion.
Deal appropriately with misbehaviour
.
Ensure that all members of staff are treated and spoken to with dignity and respect at all times.
Understand that raised voices and pugnacious / bellicose behaviour within the work place are unacceptable.
All issues/concerns /conflicts should be approached in a conciliatory manner.
In addition Teachers will
Maintain good classroom management and organisation to minimise opportunities for misbehaviour.
Maintain records of repeated and/or serious misbehaviour.
Communicate effectively with parents.
Work with colleagues to devise specific behaviour supports when required by a child with behavioural difficulties
Be familiar with and implement the Code of Behaviour.
Promote positive behaviour and recognise and affirm good work.
Pupils
Know, understand and follow the school Code of Behaviour.
Be honest, respectful and kind.
Work quietly and safely to the best of their ability at all times.
Stay on the premises and within the designated areas during school times.
Parents
Help their children to know, understand and follow the School Code of Behaviour.
Ensure that their children attend regularly and punctually.
Be supportive of staff in their work with their child, in a partnership to promote the best interest of the children.
Should an issue arise follow the agreed procedures to deal with same.
Co-operate with teachers in instances where their child's behaviour is causing difficulties for themselves or others.
Communicate with the school in relation to any issues which may affect the child's progress and/or behaviour.
Ensure that their child is provided with any materials necessary for school.
Communication
The policy will be published on the school website. A hard copy will be furnished if required. Parents must read the policy and sign the form, confirming that they have accepted the policy.
All parents/guardians will be advised of any amendments to the Code of Behaviour.
Review and Ratification
The Board of Management on the ratified this Code of Behaviour policy. The policy will be reviewed regularly.
Timetable for Review
The policy is reviewed and amended if necessary on an annual basis.
Reference to other Policies
The following policies have a bearing on the Code of Behaviour Policy and are all available from the office on request
Admissions Policy
Health & Safety Policy
Anti-bullying Policy
School Tours and Outings Policy
Support Policy
SPHE Policy
Chairperson: Joan Ashbrook Date: 5th July 2021
Appendix A
School Rules
In order to achieve a happy, healthy and safe working environment, where a sense of mutual respect is fostered, every pupil is expected to keep the following rules.
All members of the school community will adhere to the health and safety measures put in place for Covid 19.
All Children must be respectful of children privacy when using the toilet. In order to ensure this privacy, The Board of Management requires that all children in mainstream class are toilet trained and can look after their personal care needs
Respect and Courtesy
Pupils are expected to treat themselves, all adults and fellow pupils with respect and courtesy. Behaviour that interferes with the rights of others to learn and to feel safe is unacceptable. Bullying, aggressive or intimidating behaviour will not be tolerated from anyone and will be dealt with in conjunction with the Anti-Bullying Policy.
Pupils are expected to obey the instructions of principal, teachers, SNAs and visiting coaches and to work to the best of their ability.
Pupils are expected to show respect for all school property and to keep the school environment clean and litter-free. Damage to, or theft of, school property is strictly forbidden.
Parents are expected to encourage their children to be kind, friendly and inclusive.
Parents / guardians are reminded that the staff of the school does not accept responsibility for pupils before 8.50 or after 1.30 (Infants) or 2.30 (1st & 2nd) except where pupils are engaged in extra-curricular activity organised by the school and approved by the Board of Management. Children involved in these activities are expected to behave in accordance with the school code of behaviour. Children may not leave school early without being signed out from the office. Proof of appointments may be requested.
The school opens at 8.50. Formal teaching begins at 9.10. We encourage the children to be in a line outside the classroom door for 8.50. Please maintain social distancing and adhere to the line markings outside the classroom. There must be one adult only present with the children when in their lines. Latecomers are noted by the class teacher. Notes are sent home to encourage good timekeeping or a phone call / meeting with parents may be required.
Pupils are expected to arrive in time every morning (8.50 am) and to be collected promptly at the end of their school day (1.30 pm or 2.30pm). Pupils are expected to be present every day. Pupils are marked officially late on Aladdin from 9am. See 'Procedures for Notification of Pupil Absences from school' mentioned earlier.
Tracksuit only for Early Start, Junior & Senior Infants
1st & 2nd Class pupils are required to wear the complete uniform every day except on the designated P.E. day (tracksuit & runners)
Stud earrings and watches are the only jewellery allowed
Healthy Lunches
The children can avail of the school lunch which is supplied by Glanmore.Children are not permitted to bring nuts or products containing nuts to school. Healthy eating is encouraged. Every child must bring an empty, decent sized lunch box every day. This must be emptied and cleaned daily. Children must not share lunches.
Orderly behaviour is considered particularly important when children are proceeding to and from classrooms and to and from the yard. Running is strictly forbidden in classrooms and in corridors.As part of their social training the children eat their snack/lunch and tidy up properly afterwards under the supervision of the teacher on duty. All rubbish is placed in their lunchbox and taken home.
The children do not have permission to enter the school during break time without consent from the teacher on duty. During inclement weather pupils remain indoors in their classrooms and may play with the games provided or may watch a programme/dvd as selected by the teacher. Children are not allowed to walk around the room or leave their seat unless permission is granted.
Parents/guardians are expected to conduct themselves in an appropriate manner while on the school premises. No smoking is permitted on the school grounds. No pets are permitted on the school grounds. No cycling is permitted on the school grounds. Due to Covid, social distancing must be maintained at all times and parents must adhere to the one way system around the school. The principal may request a parent/guardian to leave the premises if their manner or behaviour is unacceptable or aggressive. Parents / guardians are expected to respond positively to any request made by the principal.
Homework must be completed by the child every night and signed by parents/guardians.
See homework policy for more detail.
The children are not permitted to bring mobile phones to school.
It is extremely important that you provide the school with up to date phone numbers (and addresses) in case of sickness or an emergency.
Children who are ill should not be sent to school. If a child presents with a contagious condition, parents/guardians will be contacted to take him/her home immediately.
Due to Covid 19, parents must check children's temperature each morning before school. If your child has a temperature above 37.5 degress celsius and/or is displaying other symptoms of Covid 19 including a cough, shortness of breath , loss or changes to sense of smell or taste they must not be sent to school. Please seek and follow advice from your GP.
Special Occasions ex. Birthdays
Children are not allowed to distribute cards/invitations/sweets/cake in school.
The children must have permission to go on a tour or an outing organised by the